Jan Brandt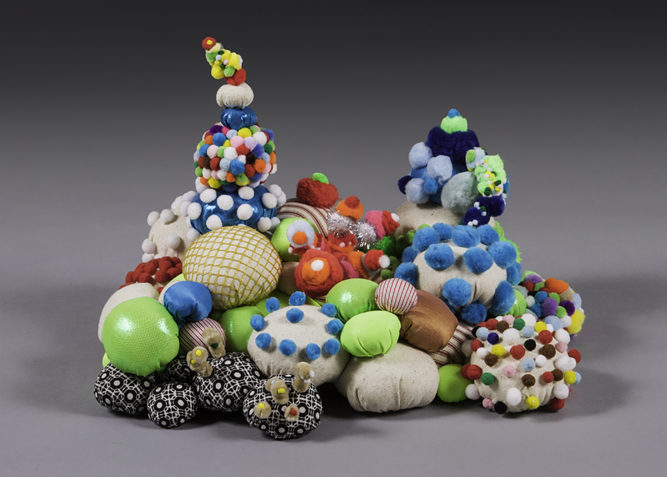 Jan Brandt is an artist working in mixed-media, textiles, printmaking, and painting. She holds a Bachelor of Science in Environmental Design and a Bachelor of Fine Arts, both from Illinois State University in Normal, IL. She is the owner of Jan Brandt Gallery in Bloomington, IL, located in a former Coca-Cola Bottling plant. Brandt's work has been shown in San Francisco, Davis, CA, Chicago, IL, New York City, Oberlin Ohio, Indianapolis, Indiana, Evansville, Indiana, and Peoria, IL as well as in her local community of Bloomington-Normal, IL. She has been published in three Studio Visit journals, American Art Collector, and will be included in Creative Quarterly, the Journal of Art and Design, Issue 46, Spring 2017. Next year she will have solo shows in Chicago, IL, and at Heartland College, Normal, IL.
Statement
Inspired by the rich history of quilt-making and fiber art, Jan Brandt hand-stitches disparate textiles such as donated clothing, pompoms, and muslin into three-dimensional hybrid assemblages. An organic, obsessive process drives this intricate work evoking growth and accumulation. The assemblages are displayed as mutating within and edging out from wooden hoop "Petri dishes", biological experiments attempting to escape glass specimen jars, and free form encroachments on the walls of the exhibition space.
Brandt's work represents a confluence of art and science through the process of feminist artistic tradition. Her assemblages and installations question the definitions, contradictions and classification of art and craft while suggesting the interpretation of biological concepts.The physicality of these capsular works offers a macroscopic, larger than life expression of cellular growth, whimsical and creepy at the same time.